Take advantage of this deal through Icelandair to head to London, UK & Reykjavik, Iceland out of New York City, New York.
Book this flight with no delay, as there is no telling when the fare will disappear
DRIFTR STRONGLY RECOMMENDS YOU DELAY MAKING FURTHER PLANS AS MUCH AS POSSIBLE. CHECK OUT EPISODE 1 OF THE DRIFTR PODCAST ON GLITCH FARE ETIQUETTE .

BECAUSE THIS IS AN ERROR-FARE, THERE IS ALWAYS THE SMALL CHANCE THE AIRLINE MAY CANCEL THE TICKET.
DEPART
New York City, USA
ARRIVE
London, UK
Reykjavik, Iceland
RETURN
New York City, USA
STOPS
Reykjavik, Iceland
TRAVEL DATES
Limited availability from September to October 2017
Example dates:
DATES:
Availability from November 2017 to March 2018 (excluding Christmas/New Year)
Example dates:
24th Nov – 1st-8th Dec
26th Nov – 3rd-10th Dec
27th Nov – 4th-11th Dec
12th-19th-26th Jan
13th-20th-27th Jan
22nd-29th Jan – 5th Feb
24th-31st Jan – 7th Feb
1st-8th-15th Feb
20th-27th Feb – 6th Mar
21st-28th Feb – 7th Mar
28th Feb – 7th-14th Mar
8th-15th-22nd Mar
AIRLINE:
Icelandair
Example Itinerary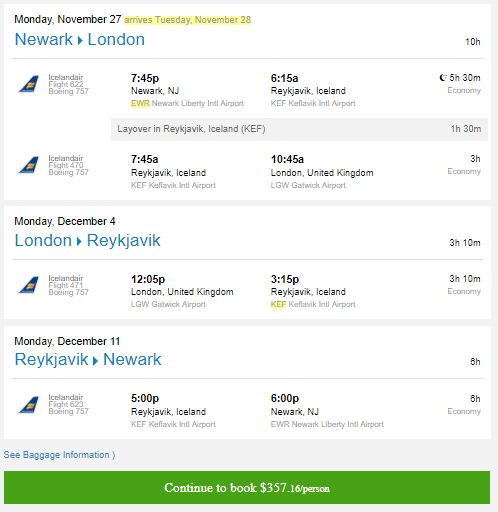 Happy Travels Driftrs!
Want to find out about more travel deals? Make sure to join our travel Slack community. Learn more here.
Reference Secret Flying for more information on this deal